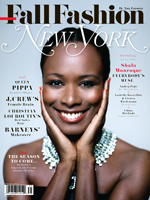 Socialite and fashion muse Shala Monroque scored one of New York Magazine's Fall Fashion 2011 covers, alongside Isabella Rossellini and Elettra Wiedemann, Andrej Prejic and China Machado. Speaking about her Caribbean background, the newly minted style icon says:
She's a shy woman, slightly formal and sphinx-like. She abhors talking about her life, unspooling stories reluctantly. Monroque was brought up near the beach in St. Lucia, where her family still lives, and didn't leave the island ­until after she graduated from high school. "I always knew as a kid that I wanted to live in America," she says, choosing her words carefully. "We always got all of the American TV shows late, and I grew up watching Leave It to ­Beaver and other shows from the fifties. Life here just seemed better, and freer. I couldn't believe that on TV, kids would just open the fridge, pull out a box of orange juice, and drink from it."
Check out the full story here.